Special Article
I went to Akihabara in Taiwan (Part 1)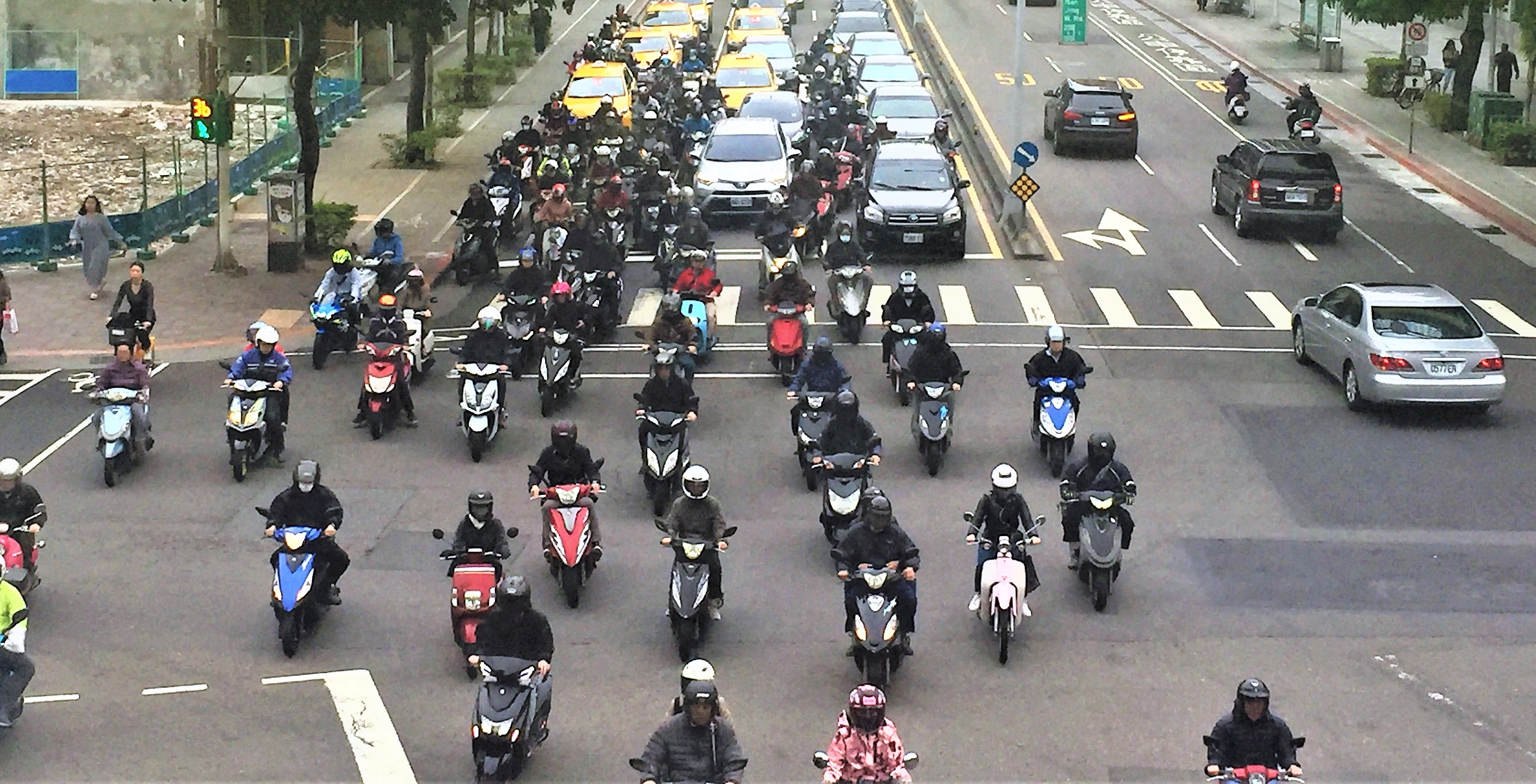 Commuter rush in the morning shows the momentum of Taiwan
1. Preparation 1: Let's buy a Taiwan SIM card
Now, before arriving at Taiwan's Taoyuan International Airport and going to Taipei city, let's start by setting up a smartphone brought from your country. Even if you do not make a phone call, communication is important for gathering information about where to go in Taiwan, and contacting friends on social media. When you receive your baggage at the airport, and pass the customs inspection, you will find the outside behind the automatic door. Exit the door and turn left if you arrived at the terminal 2 at the airport. At the end of hallway, you will find a corner of a telephone companies that sell SIM cards. You can buy unlimited data communication for one week, from NTD450 to 500 (NTD1 = about USD0.033). No difficult Chinese language is required as the staff members speak English. If you know English, you only need to say the number of days you will stay in Taiwan, for example, "three days" or "one week." After that, the clerk will do everything to set up your smartphone without saying anything more. It's really easy.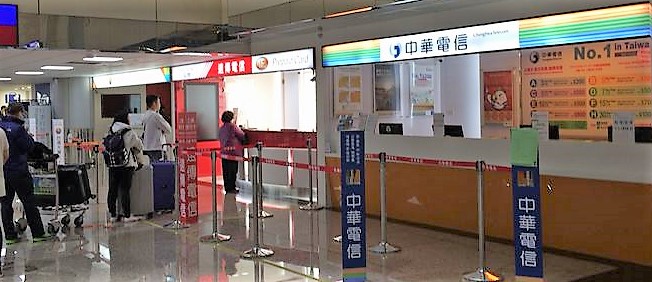 Telephone companies selling SIM card
2. Preparation 2: Let's buy an Easy Card (Yu-Yu card) transportation card
The card can be purchased at vending machines inside station halls, but it is more interesting to buy it at the station counter, face to face, because it is Taiwan. The card's remaining balance can be increased using vending machines, and you can travel as far and as often as you like on the Taipei Metro (MRT) and all buses in Taipei and New Taipei City. The card can also be used at convenient stores for purchases. Check for information on the Internet before arriving in Taiwan. The card is really convenient.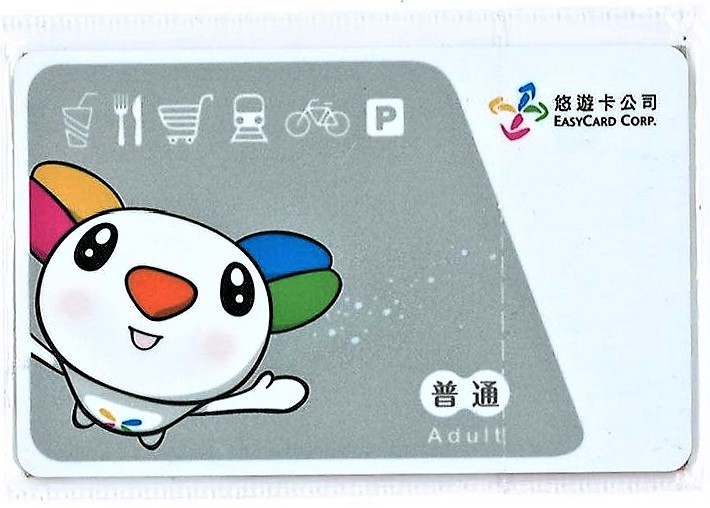 Convenient Easy Card (Yu-Yu card)
3. Let's go to Guang Hua Digital Plaza by MRT
Taipei Station is in the center of Taipei. There are several different railway lines running there. Each route is color-coded, so it is easy to understand. To get to Guang Hua Digital Plaza, take the blue Bannan Line (板南線) on the route map from Taipei Station to the Nangang Exhibition Hall (南港展覧館). The first station from the Taipei station is Shandao Temple (善導寺) Station, and the second is Zhongxiao Xinsheng (忠孝新生) Station, the nearest station to Guang Hua Digital Plaza. You need to touch your Easy Card at the ticket gate when you get on or off.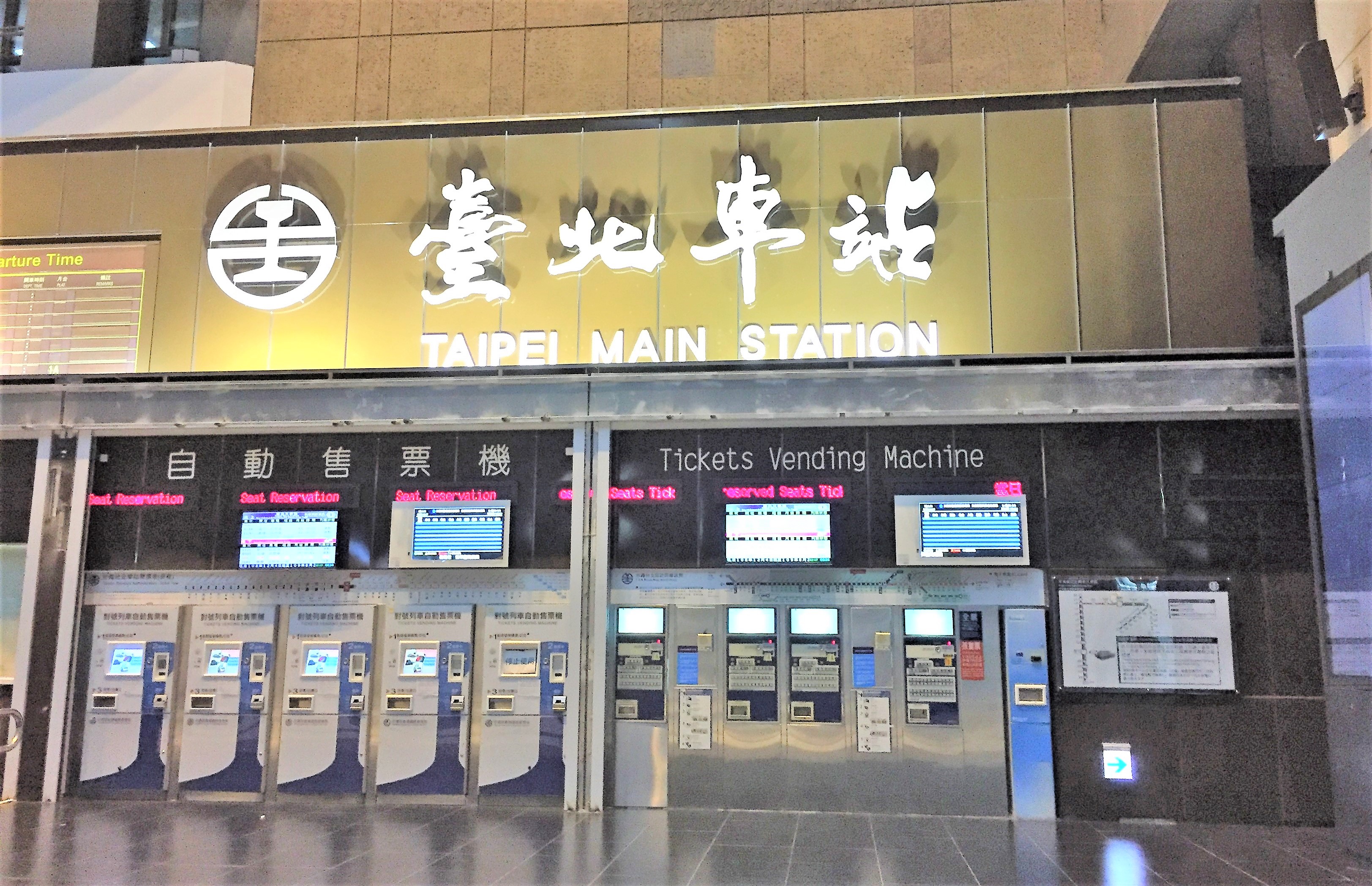 Taipei main station (ground level)
4. Getting off at the "Zhongxiao Xinsheng (忠孝新生)" station for Guang Hua Digital Plaza
Since the MRT is a subway, the direction to the market differs, depending on which gate you exit. When you reach street level, look up for the National Taipei University of Technology (臺北科技大學) building. Because it is a 20-story high building, it is easy to find. However, if you enter the Guang Hua Digital Plaza into your smartphone, there is no mistake, because the smartphone will take you straight to it.
When I came about 20 years ago, there was no such building, and feel the flow of the times. I went there before 10 AM this time. Some of the stores were sparse and had shutters closed until just before the store opened.


Left: National Taipei University of Technology
Right: Student crossing an intersection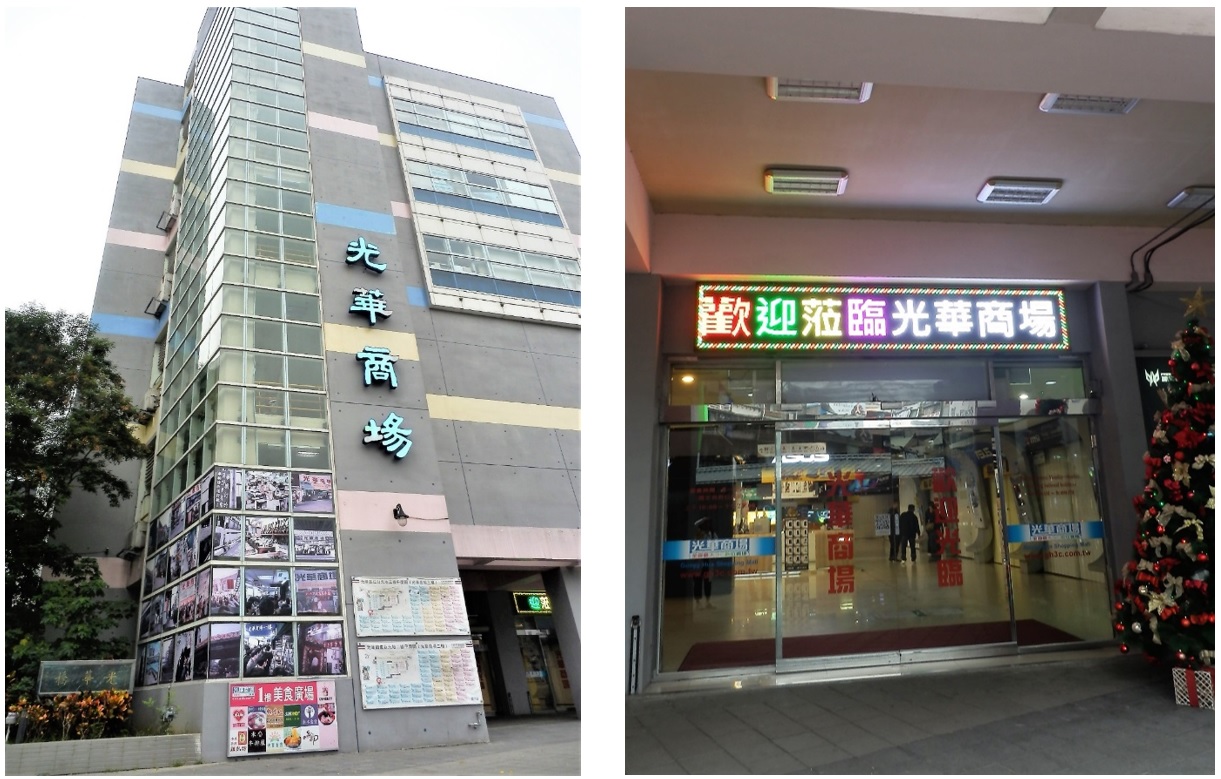 Left: Guang Hua Digital Plaza building
Right: Beautiful automatic entrance door
5. This is Guang Hua Digital Plaza
The first floor is a PC and mobile phone sales floor. Famous brands are on display. If you go to the second floor or higher, you will find stores selling radios, antennas, and parts you are interested in.


Left: PC store on 1F
Right: Radio store


Left: The upper right two radios output 10W
Right: Japanese brands are also sold in this store


Left: Various parts are sold
Right: Just looking around is interesting
I have found 144/430MHz 5W FM Dual Band transceivers in many stores but the brands are not known in Japan. Even if the radio price is cheap, you may not be able to use it in your country. You should check that it has been certified and type-approved. Some transceivers are sold with a specification of 10 watts of continuous power output, but it is doubtful. I asked the store clerk if the 10 watt output is true, I got an answer "It's true!" Hmmm… Antennas used for amateur radio are also sold at several stores.
Well, I explained earlier that there is the National Taipei University of Technology near the Guang Hua Digital Plaza. The entrance in the photo below is across the university road. Passing under the sign, and entering a dubious underpass. There are many interesting stores underground. It is like a heaven for amateur radio operators. This area is a must-see, as it sells things that are very intriguing.


Left: There are also many stores underground floor
Right: Stairs leading to the basement


Left: Radio shop
Right: They have connectors that are not available in Japan
I bought something that was not particularly necessary, at this basement store. You can find a conversion connector that is difficult to find in Japan. You can find anything you want here. This is Guang Hua Digital Plaza.
Continued in the next issue. FB DX